Dr. Sean Roth
916.983.1114
After-Hours Emergency: 916.812.4775
2310 E. Bidwell St., #100
Folsom, CA 95630

Cosmetic & Family Dentistry
What is a dental Veneer?
A veneer procedure is a popular cosmetic procedure. Porcelain is known as one of the best materials for aesthetic dental procedures, because it mimics tooth enamel very closely. Veneers are extremely thin (usually less than 0.5 mm thickness), giving them an enamel-like translucence creating a natural appearance. They are about as thick as a contact lens or a fingernail. Tooth preparation requires very little tooth alteration.
Porcelain veneers are attached to your teeth using a dental bonding glue or cement. Although veneers are very thin, once bonded to your teeth they become strong. The process is fast and conservative. First, your teeth are prepared and impressions are sent to a dental laboratory along with the design for your new smile. Veneers may be recommended along with other cosmetic procedures in order to produce optimal results.
Veneer Procedure Steps:
Your teeth are cleaned so that only you natural tooth is present. Old surface restorations are removed.
In some cases the tooth is etched so the veneers will adhere.
An impression is taken of the tooth area where the veneers will go and sent to the lab for fabrication.
When the veneers are ready, your dentist will check the fit and appearance, then permanently attach them to your teeth.
After the veneer is set, it is shaped and polished to look like a natural tooth.
Veneer Procedure Benefits:
You can have your porcelain veneers and a beautiful new smile in just two office visits! 
Very little tooth alteration to your natural teeth and does not affect neighboring teeth.
Gap space between teeth can be closed without braces.
Veneers can add tooth length to worn down teeth.
Veneers can add tooth shape and thickness.
Veneers can cover broken or chipped teeth so that they look like healthy normal teeth.
Renew the color of discolored teeth.
There is no dark line at the base like you may have noticed with some dental crowns, and porcelain is stain-resistant for lasting beauty.
Porcelain Veneers vs. Lumineers
Lumineers is specific brand of porcelain veneers, which use a patented porcelain material known as Cerinate. They are even thinner than traditional veneers.
Lumineers require very little or no tooth reduction. They are a great choice if your teeth only need minor changes, or if they are set back slightly.
Traditional veneers may be a better choice if you are looking to make more dramatic changes.
One of the most requested procedures asked of a dental office is tooth whitening. This is a procedure that will assist in removing stains and discoloration from teeth while lightening them.

Tooth whitening can only be completed once cavities are treated in order to prevent the whitening solution from reaching the inner tooth and causing sensitivity. Also keep in mind that tooth whitening is unable to lighten exposed tooth roots, and tooth replacements such as crowns and veneers.
Composite fillings are today's modern filling choice. They are made to match your tooth's natural color to make them virtually invisible to notice and are placed onto the tooth by bonding the filling material to the tooth so they do not have the unlikely chance of falling off. Many patients choose to replace their old silver and gold fillings with composite fillings.
Other Benefits:
- Beautiful in appearance
- Completed in a single visit
- No filling leaks
- Less chance of tooth cracking
Bonding is a common cosmetic procedure due to its relatively low cost and ease of application. It is often used to reshape or change the color of a tooth and fill in slight spaces between teeth. The composite material used in bonding can be shaped and polished to match all surrounding teeth.
Dr. Roth, an Invisalign® dentist in Folsom, often recommends an Invisalign® procedure rather than traditional braces. Invisalign® is the breakthrough technology that lets you have the smile you've always wanted without the hassle of braces. By using a series of clear, removable aligners, Invisalign® straightens your teeth with results you'll notice sooner than you think. The course of treatment involves changing aligners approximately every two weeks, moving your teeth into straighter position step-by-step, until you have a more beautiful smile. And unlike conventional braces, these clear aligners can be removed while you eat and brush your teeth as usual. An average Invisalign® course of treatment takes about a year.
The Invisalign® Advantage Over Braces

When choosing an option for straightening your teeth, it's important to consider what works best for not only your appearance, but your lifestyle as well.

| | INVISALIGN® | BRACES |
| --- | --- | --- |
| Effectively treats a wide variety of cases, including crowding, spacing, crossbite, overbite and underbite. | X | X |
| Straightens your teeth | X | X |
| Average cost is about $5,000* | X | X |
| Allows you to eat whatever foods you enjoy | X | |
| Lets you remove the device when you want | X | |
| Lets you enjoy virtually invisible teeth-straightening | X | |
| Allows you to brush and floss your teeth normally for better periodontal health | X | |
| Consists of smooth, comfortable plastic instead of sharp metal that is more likely to irritate your cheeks and gums | X | |
| Frees up your busy schedule, with office visits only every four to six weeks | X | |
| Invisalign® Teen: Provides up to six free replacement aligners if lost or broken.** | X | |
* November 2010 Invisalign® Patient Survey
** Invisalign® Teen Only
A gum lift may be performed to create a more even gum line. Patients with a gummy smile can quickly and safely have unwanted tissue removed, thus exposing more tooth to shape a more attractive smile.
A Beautiful Smile Is Waiting For You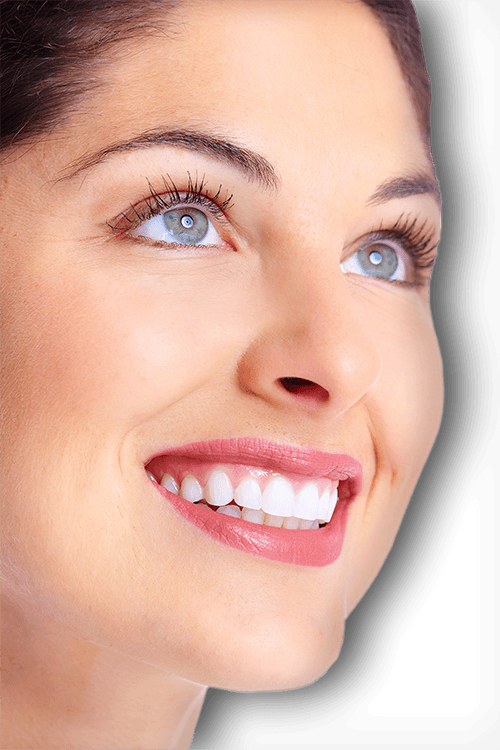 Our office provides smile makeovers to achieve the beautiful, natural look you seek. We can reshape your natural teeth to make them straighter or more youthful in appearance. Our office makes it convenient to those living in or near Folsom to receive great cosmetic dentistry!